strap4u -
sport textiles
CRYOTHERAPY AND THERMOTHERAPY CARE
The new STRAP4U SPORT range is a patented innovation recommended by health professionals. It is the combination of compressive textiles with inserts applied on physiological and muscle points in which are positioned thermal transfer silicone PODS.
DEEP DIFFUSION AND SLOW RISE OF TEMPERATURE
With its innovative "thermal transfer" material, this medical device allows the long and regular diffusion of cold (2 hours) or heat (1 hour) in complete safety and enables treatment to be individualised, as well as an optimal regulation of body temperature.
This medical device (MD1) is used before, during and after exercise, it is indicated for recovery and/or treatment of inflammatory problems and allows the selection of the areas of application ; in particularly the muscle movements. STRAP4U SPORT textiles are characterized by the lightness of the devices.
CARE, WELLNESS AND RECOVERY PRODUCTS - CRYOTHERAPY / THERMOTHERAPY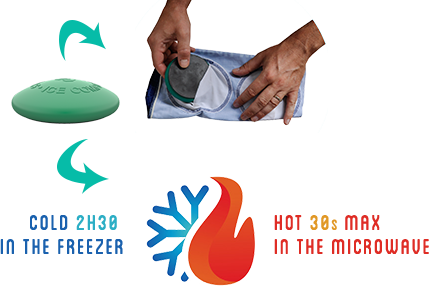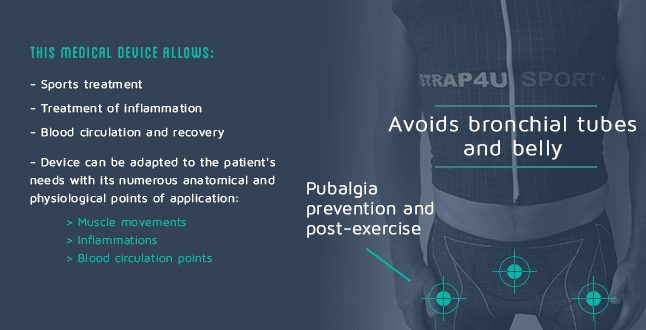 DEEP DIFFUSION - SLOW RISE OF TEMPERATURE
strap4u
sport
New recovery range
Choose THE TEXTILE ADAPTED TO YOUR NEED in our new STRAP4U range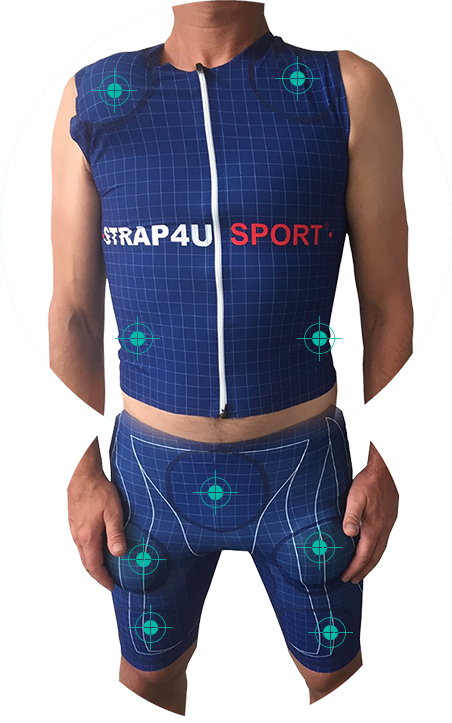 STRAP4U
Sport
vest
Recovery by cryotherapy / thermotherapy treatments
8 possible application points (Total weight: 1.3 kg)
- 2 in the clavicle area
- 2 at shoulder blade level
- 1 on the nape of the neck
- 1 on the upper back
- 2 on the sides
Avoids bronchial tubes and belly
Use before, during or after exercise
Relieves and treats inflammatory diseases
Reduces microtrauma linked to contact sports involving the upper body

STRAP4U
Sport
cycling shorts
Recovery by cryotherapy / thermotherapy treatments
11 possible application points:
- 2 at the level of the vastus medialis muscle
- 2 at the level of the vastus lateralis muscle
- 2 in the buttocks
- 2 at the level of the hamstrings
- 2 at the adductor level
- 1 at pubic level
Pubalgia prevention and post-exercise
Used pre-and post-exercise
cooler

S4U

Convenient to carry your PODS and keep them cool for extra hours